Elixir: Artists Respond to Making and Healing
September 13 - October 20, 2018
Curated by Schroeder Cherry, ED.D.

Curator and Artist Talk: September 22, 2018

Joan Hisaoka Gallery
Smith Center for Healing
1632 U Street, Washington DC 20009

Gallery Hours: Th - Fri 11 AM - 5 PM
---
Deep Flash:On Art and Transformation
September 5 - October 14, 2018
Gibbs Street Gallery/Kaplan Gallery/Common Ground Gallery/Concourse Gallery
Rockville, Maryland

Saturday/September 16/ 2 PM Deep Flash Panel Discussion with Curators and Artists
Docent led tours available on Sat. and Sundays at 1 PM

Digital Catalog Available: Read it here - bit.ly/deep-flash
---
"HerStory" 2018 on-line juried exhibition on view until August 20th
"It is an honor and privilege to present the Manhattan Arts International "HerStory" 2018 exhibition through August 20, 2018. It features art by extraordinary women artists from around the world. A range of subjects, styles, mediums, and sizes of art reflect their far-reaching artistic competence and innovation. As the juror and curator of this exhibition I took care to select artists who meet our standards of excellence. They have mastered their mediums and developed a cohesive body of work in a signature style that reflects their unique creative vision. They have also acquired essential career credentials, among other requirements. Unfortunately, there were many deserving artists who also entered excellent works of art; however this exhibition was limited to 57 artists. Please contact the artists directly to purchase, exhibit or write about their artwork. Links to their websites are provided." ~ Renée Phillips, Juror/Curator & Director, Manhattan Arts International
---
"Off the Grid: Contemporary Fiber +Textile Art"
Off the Grid is a celebration of Montgomery County's most extraordinary emerging artists within textile and fiber art mediums. The five artists featured in this exhibition - Judy Kirpich, Hillary Steel, Floris Flam, Elizabeth Packard, and Karen Schulz - make innovative use of a variety of global and traditional methods such as weaving, resist dying, piecing, stitching, and screen printing. Diversely inspired from their personal journeys and careers, these contemporary works reflect abstraction and improvised use of color, shape, and form.

Off the Grid is organized by AHCMC and is curated Amina Cooper, Public Art Manager.
Exhibition Dates: Jan 26 - April 6, 2018


Betty Mae Kramer Gallery and Music Room




Silver Spring Civic Building




One Veterans Place, Silver Spring, MD 20910




Monday – Friday from 10 AM – 6 PM

​
---
Contemporary South
Contemporary South '18

VAE Gallery
309 West Martin Street, Raleigh NC

Exhibition Dates: Feb. 2 - March 24, 2018
Hours: Wednesday - Friday: 11 am- 6pm
Saturday 11am - 4pm
919-828-7834

---
Transformations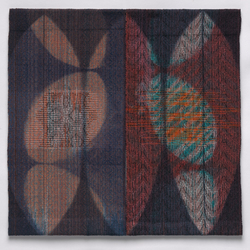 Chautauqua National Exhibition, Transformations
Eastern Kentucky University, Richmond, Kentucky
National Juried Art Exhibition - Fred Parker Giles Gallery, Campbell Building.
Exhibition runs Jan. 22-Feb. 16.
---
Paper/Cloth/Print
"Paper/Cloth/ Print," Julio Valdez Project Space, New York, NY, Oct – Nov, 2017

---
Creative Crafts Council 31st Biennial Exhibition April 8 - May 21

Creative Crafts Council 31st Biennial Exhibition

April 8 - May 21, 2017
Awards Reception: April 13, 7-9pm

The Creative Crafts Council 31st Biennial Exhibition presents some of the region's top work in wood, glass, clay, metal, fiber and more. The juried exhibition began during the studio craft movement and continues today at the Mansion at Strathmore in Bethesda, Maryland